Everything You Need to Know About Vintage T-Shirts, According to Experts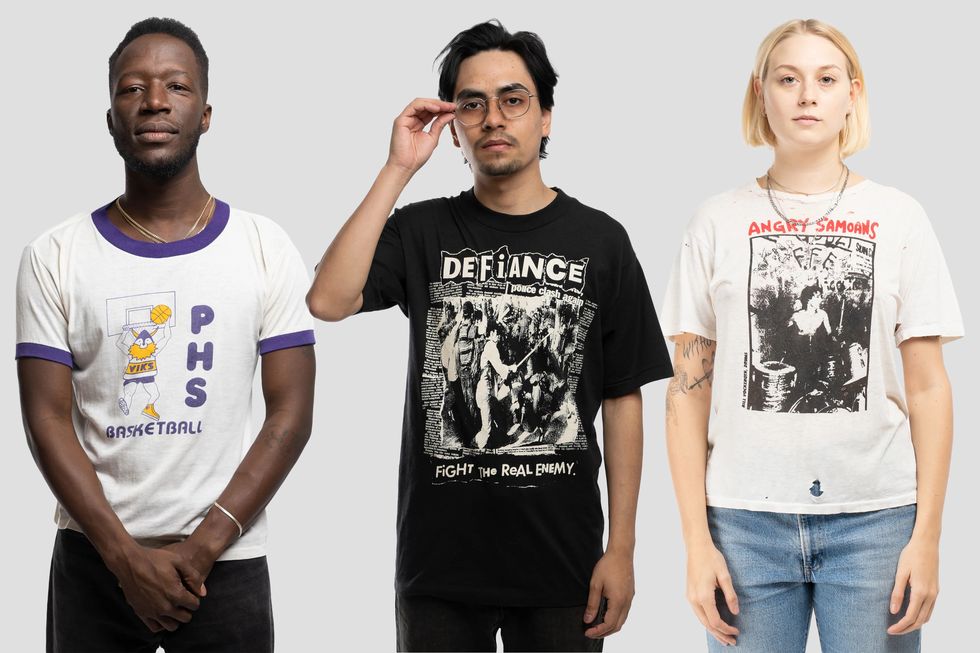 We break down what you need to know, how much you should spend and whether you should really know the band on the front or not.
The best T-shirt for the job isn't a mint one, fresh out of the plastic wrap — it's vintage.
Tees that've already lived a life or two are just more comfortable.
Plus, they have more character.
You should invest in tees no one else (or at least a rare few) can own.
Here's why.
What to Know
Holes and Stains
If you're daring enough, some vintage tees will come with a few air vents (read: holes) or visible stains.
Though, obviously, this isn't for everyone.
But, since designers constantly look to vintage garments for inspiration, it's no surprise that there are brand-new hole-ridden tees you can buy for the same price as a rare vintage band tee.
Stitch
Most vintage T-shirts, at least the valuable ones, are single-stiched.
Single-stitch T-shirts feature one visible line of stitching on the front side and two underneath, creating what sewers call a lockstitch.
This stitch is more durable, albeit harder to do—hence why companies phased it out in the mid-90s.
Graphics
Depending on how the graphic was printed, vintage graphic tees can patina in different ways that collectors find desirable.
Many graphics can crack over time, adding another textural element to the T-shirt along with the cultural significance (or personal significance) to said graphic.
Fabric (and Thinness)
If you found a 60/40 tee, meaning one that's made from a mix of mostly cotton and partly polyester, it's probably a little sheer by now.
That's bound to happen, and this means the shirt's a little delicate.
As for all-natural shirts, gradually the cotton fibers of a T-shirt will relax and break down with wear and washing.
Repeat friction against the skin and in the wash slowly degrades the fibers until they break and become soft.
Vintage vs. New
That's why your oldest T-shirt is probably your most comfortable and it's the reason brands try to sell you a tee with a 'lived-in' or 'broken-in' or 'vintage' feel.
They do this by putting their tees through the wash with chemicals and pumice stones (not great for the earth) to break down those fibers and make them softer.
"A good vintage tee is preferably very soft and worn in but with the seams intact."
—Club Vintage founder Anna Gray
"A good vintage tee is preferably very soft and worn in but with the seams intact," Club Vintage founder Anna Gray says.
Because these well-loved tees have been put through the wringer, they're also often thinner.
Sometimes even paper thin.
Some might not consider that a good thing, but it's … [ keep reading on Gear Patrol ]
Rick Owens: 'I Seem Unwelcoming, But I'm Not'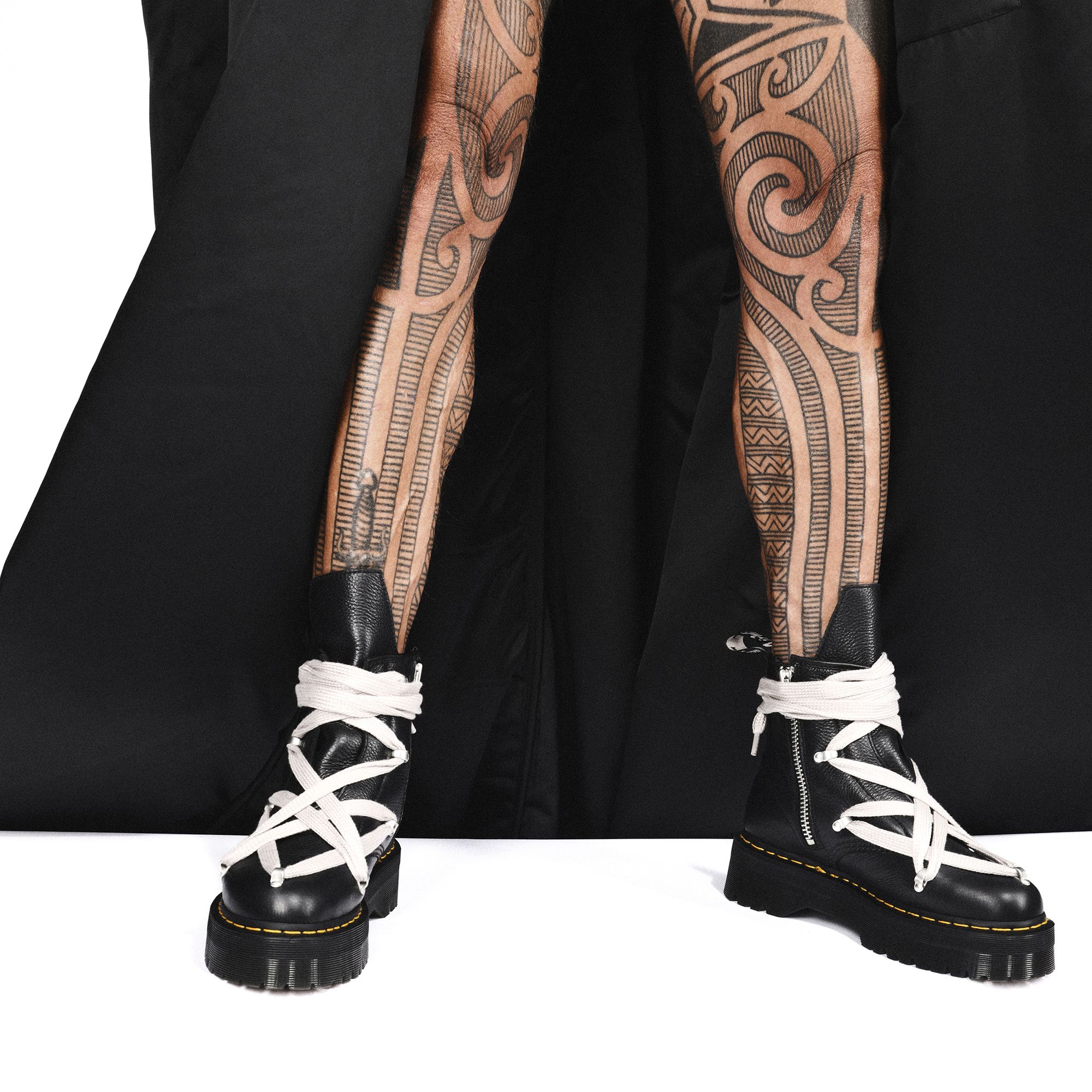 Rick Owens knows he has a reputation.
It'd be pretty tough to earn the nickname "the dark lord of fashion" without being aware of it.
His eponymous label's signature aesthetic—dark and drapey, punctuated with elements like gargoyle-ish spiked shoulders, towering heels for men and women alike, and shocks of bold color—has earned scores of devoted followers the world over.
But, Owens says, "it can seem that the Rick Owens world is just too extreme, or it can seem forbidding. I didn't want that to happen."
In fact, if you ask him what he wants to foster with his work, he'll tell you it's "inclusivity."
A dark lord he may seem, but far kinder and more open than you might expect.
"I just want to be the guy who says, 'We have other options,'" he explains, referring to the dominant aesthetics of modern fashion.
"Which I feel is more expansive and generous."
It's all about bringing people into the fold, and as part of that project, over the last few years Owens has started collaborating with more mainstream brands like Adidas, Veja, Converse, Birkenstock, and Dr. Martens.
I caught up with the Paris-based designer on Zoom on the occasion of the latest release from the latter, which includes a calf-height 1918 boot as well as a riff on the iconic 8-eyelet 1460 boot finished with Owens's pentagram-shaped lacing.
We chatted about that project, of course, but it quickly turned into a conversation about … [ keep reading on Esquire ]
3 Fail-Safe Thanksgiving Outfits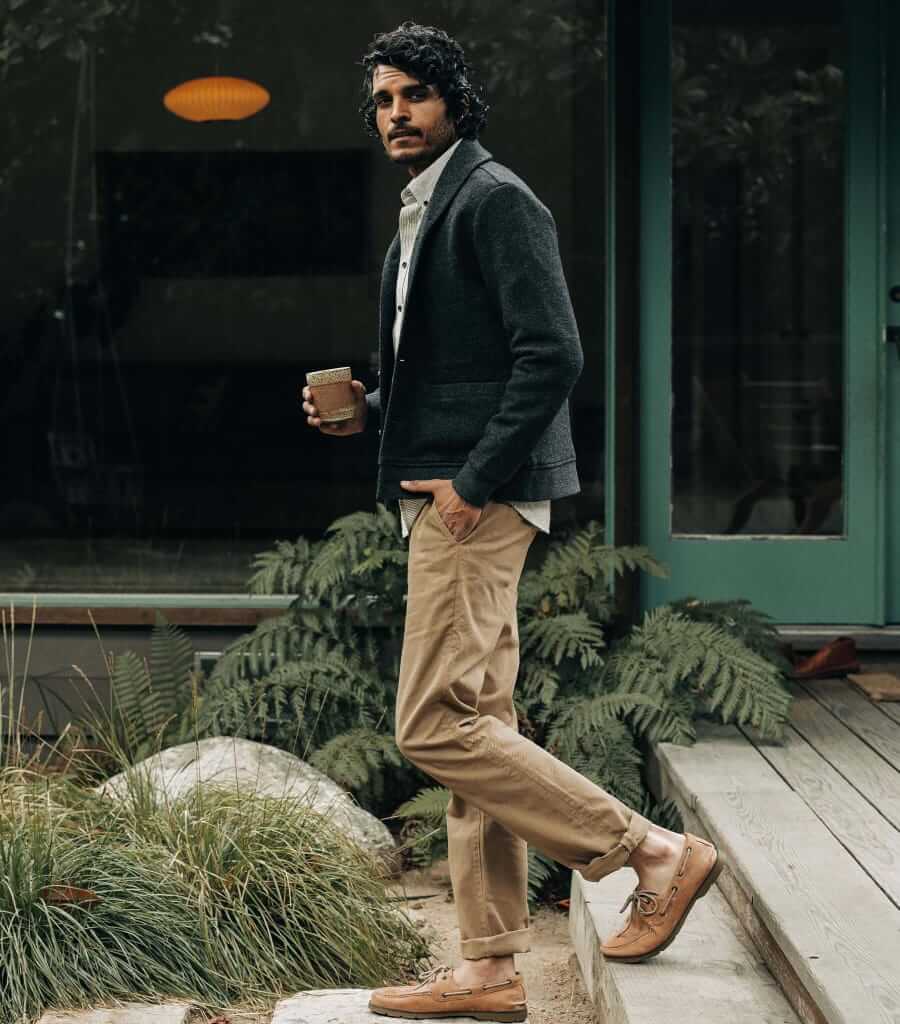 Thanksgiving can be a little stressful.
You are getting together with relatives that you may see once a year and having awkward conversations with new family members.
There's often some travel, a few errands and maybe even some cooking involved.
A lot goes on at holiday social gatherings but let's not lose sight—we all have a lot to be grateful for.
Besides bringing an indulgent dish to the family function, you can also bring style to the dinner table.
I'm looking forward to doubling up on desserts and watching a lot of football with the family.
Whether you're celebrating the holidays with friends, family or your future in-laws, we're here to make sure your outfits are tasteful even if the food … [ keep reading on Valet ]