Low Fodmap Diet: What it Is, Uses & How to Follow
Temporibus autem quibusdam et aut officiis debitis aut rerum necessitatibus saepe eveniet ut et voluptates.

You may have heard of the FODMAP diet from a friend or on the internet.
When people say "FODMAP diet," they usually mean a diet low in FODMAP — certain sugars that may cause intestinal distress.
This diet is designed to help people with irritable bowel syndrome (IBS) and/or small intestinal bacterial overgrowth (SIBO) figure out which foods are problematic and which foods reduce symptoms.
"The low FODMAP diet is a temporary eating plan that's very restrictive."
—Hazel Galon Veloso, M.D.
"The low FODMAP diet is a temporary eating plan that's very restrictive," says Johns Hopkins gastroenterologist Hazel Galon Veloso, M.D. "It's always good to talk to your doctor before starting a new diet, but especially with the low FODMAP diet since it eliminates so many foods — it's not a diet anyone should follow for long. It's a short discovery process to determine what foods are troublesome for you."
What is FODMAP?
FODMAP stands for fermentable oligosaccharides, disaccharides, monosaccharides and polyols, which are short-chain carbohydrates (sugars) that the small intestine absorbs poorly.
Some people experience digestive distress after eating them. Symptoms include …
Keep reading on Johns Hopkins Medicine
Best Cottage Cheesecake You'll Ever Taste
One-Pot Spaghetti Carbonara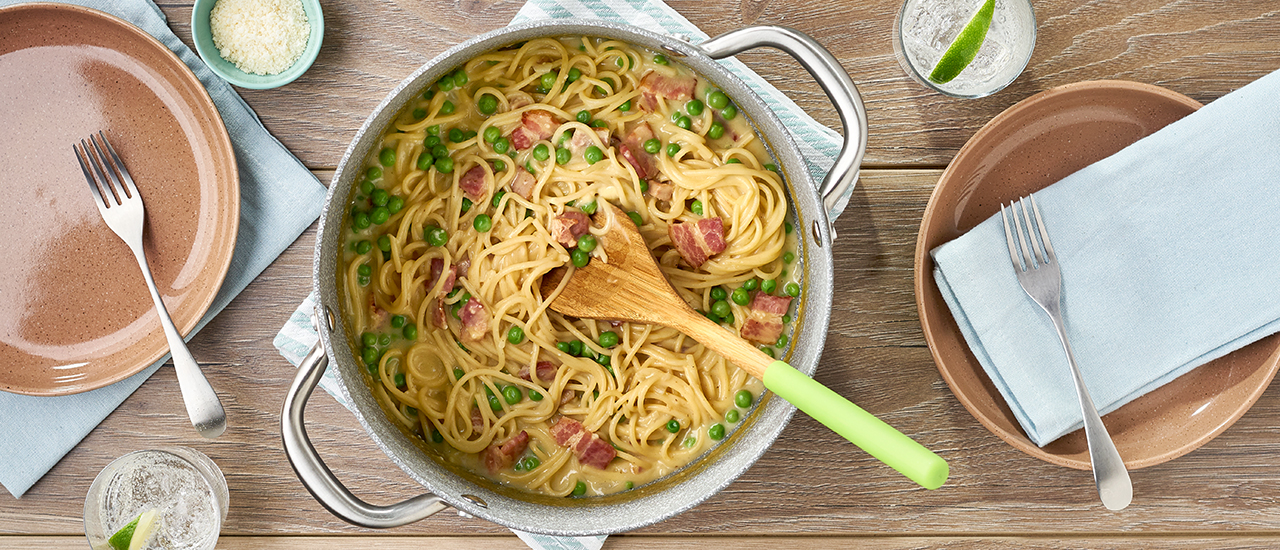 This One-Pot Spaghetti Carbonara makes a simply delicious recipe easier than ever.
Our version of spaghetti carbonara has only 7 ingredients and the pasta cooks right in the sauce.
The rich creaminess comes from cream of chicken soup, so you don't have to spend time making an egg mixture for the sauce.
Bacon or pancetta adds a smoky note while Parmesan gives a great flavor boost.
This One-Pot Spaghetti Carbonara is perfect comfort food—and ready in only 25 minutes!
[ see the full recipe on the Campbell's website ]
This Massive Charcuterie Board is Perfect for Entertaining